Ben and I test-tasted way too many kimchi dumplings to walk away with a clear conscience, paid $2.99 for a bag, good deal.
These are chives, vermicelli and tofu stuffed Korean vegetarian gyoza, HEAVEN!
I also bought a piece of chuck roast for my Japanese curry stew with carrots, onions and potatoes, a huge pot for less than $5.
Japanese curry is very mild, with a sweet undertone and thick gravy-like consistency. Adding apple cubes brings sweetness and texture to the dish too.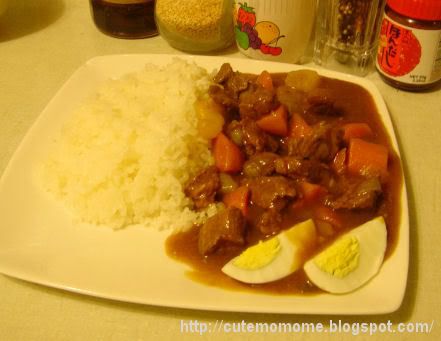 最近忙的昏頭轉向的,好久沒有自己好好做餐晚飯來吃吃了,實在慚愧啊。。。
這么難得的機會當然要厚臉皮的敲鑼打鼓一下。
昨天逛超市的時候,不要臉的吃了人家一大堆試吃鍋貼,滿辦法只好買了包回家。
韓式的煎餃,有泡菜韭菜,味道蠻特殊的。
今晚還做了一鍋日式咖喱,我想可以吃很多天了。
明天得爭氣點,別一早又把便當給吃光了。。。